Hey guys.
I am looking for 30-40ml of a blue sand.
For blue sand I will trade these 4 hawaiian sands
Naalehu, Hawaii (Papakolea beach)
Hana, Hawaii (Red Sand Beach)
Lihue, Hawaii (Seaglass)
Punaluu, Hawaii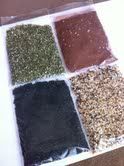 And if I like the blue sand you have, Ill send you star sand from japan also.
Im also looking for any other trades. I will be adding lots of sand from the east coast united stated next week so I will get an updated trade list as soon as possible.